CONGRATS ON MAKING THROUGH THE TOUGH FIRST ROUND AT NIFT.
Thank you for your interest in the NIFT Situation Test at TRENDZ ACADEMY.
Mission is still unaccomplished my friend! And as you set your eyes on the next target, be prepared for a stiffer competition and hard work. But you already know that, don't you? But do not worry. Because you have just taken the best step in the direction closer between you and NIFT. When you commence your "3D GYM Situation Test Training" with us, you will focus down to understanding this part of the exam in detail and amalgamate all your resources to go for the kill. By the end of these sessions you will feel highly comfortable with the materials offered for this test along with a built up speed to come up with an interesting way of doing your model and also executing it in the allotted time. Your gym instructors will work with each one of you personally to raise your level of work to the expected standards. This is the target given to each trainer. And mind you, they are best equipped to help you. As they have been doing with our past many batches. The next few days are almost like being at NIFT. So get the feel of the kind of work that you are going to be doing for the next 4 years of your life. And if you enjoy these sessions, you are definitely cut out for a design career.
So look ahead to a fundus career with your dream college. But this is the time to literally start dreaming about your dream college. As the faculties of NIFT put it, you should be eating, sleeping and wearing fashion to become a fashion designer.
Thank you for your interest in the NIFT Situation Test at TRENDZ ACADEMY.
We will see you at NIFT soon.
What is the NIFT Situation Test ?
This is a two hour test held at the NIFT campus for those students who Exam. This is the final stage in the exam for getting through this dream Institute to study an undergraduate course of your choice. After this there is no other test and NIFT comes out with the final results. Once you have appeared for this test, you will have to wait for another month or so to get to know if you are going to be studying at NIFT or not !
What to expect in the situation Test for NIFT ?
Well you can expect to get to make a 3 dimensional model out of some basic materials provided This material may include simple things like- CARD BOARDS , CREPE PAPER , TRANSPARENCIES , STRAWS , RUBBER BANDS , BUTTONS ,TOOTHPICKS , PAPER CLIPS , ICE CREAM STICKS N SOME OTHER SIMILAR STUFF
The task is to create a 3D model which is self standing. Well presented and depicting the given theme. What you make would be judged by a panel of NIFT faculty and industry experts and marked. This test carries a weight of 20% of the total. Sounds like a small percentage but in the stiff competition, a mark more in this test can get you through or give you a better ranking which would ultimately come handy while choosing the center form the various NIFT locations.
What are they looking for in my creation ?
A spark. Enthusiasm. Dedication. Ability. Uniqueness of idea. A go-getter attitude. A spirited approach to work. Anything which tells them that the kid is definitely capable of something. They are not looking for a ready made designer but someone who has been a job to look for this type of talent among so many, one develops an eye to spot that in the work. This is exactly what the examiners do. They are on a lookout for raw talent which can groom into future designers. It`s pretty logical. Try to put yourself into their shoes and you will understand it better.
It's important to get good marks in NIFT Situation Test as it not only holds 20% of the total exam but it actually gets you a place in the merit list. This phase is an important deciding factor for improving one's all India rank in NIFT and getting NIFT campus of their own choice.
Now let's talk about how to prepare for the exam. Sharing our mantras for the same.
THE FIRST MANTRA : GET ORGANIZED
To get your act together, you need to plan. PLAN THE FOLLOWING :
THE TIME OF THE DAY WHICH YOU WILL DEDICATE TO PRACTICE FOR THIS EXAM.
Decide any 3 hrs in a day. Ideally the morning hours when the mind and body are fresh. and make sure you stick to the schedule everyday. This step is very important for preparing to appear for this test. Call this 3 hour session your 3D GYM time. do nothing else in this hour but practice.
All the materials mentioned in your material list have to be organized and be with you when you start your session everyday. Do not leave the session midway looking for these materials. You can arrange for a large size ceramic mug which can act as a stand for keeping all the stuff together rather than scattered everywhere on the table.
Initially it does not matter how much time you spend to complete the model or practice the exercises given to you. but by the time you reach your 3rd model start timing yourself within the limit of the time for the test and stick to that.
PLAN YOUR SECOND MANTRA: KNOW YOUR TOOLS.
You need to know your tools well. The tools which are going to come handy while cutting out shapes / paper / materials.
This is a good time to invest in a good quality cutter from a good stationery shop. Some things to keep in mind while buying a cutter are- buy a small blade and large blade cutter to equip yourself for all types of cuttings. While choosing the quality, make sure that the cutter has a good locking system for the blade. See to it that the cutter has a sturdy outer body to hold the blade in place so that the blade does not shake while cutting. Now that you have bought your blades, let's start to learn to use it. It's not very tough but you need to practice. Holding the blade right is the most important step.
What you have to keep in mind is that the first finger for your hand should be placed on top of the cutter , the thumb should be securing the left side of the cutter ( if you are using your right hand ). The pressure should be applied from the top and pull the cutter towards yourself-always stand while cutting and bend your head over your work so that the eyes are directly on top of the point where the cutter is at work.
If you have to cut straight lines, place a metal scale exactly on the line to be cut and place the lip of the blade so that it touches the side thickness of the metal scale acts as a guide while cutting. All along the cutting of this line holds the scale down on the line with the left hand using the thumb and the first finger. Apply as pressure to hold the scale in place as generally while cutting, the scale tends to slip and the cutter can go over your hand .
PRACTICE YOUR PAIR OF SCISSORS
This is a very handy tool for everyone wanting to sit for this exam. Also , if you are not too confident about your cutter, this is the cutting tool for you. Again , go for good quality scissors as these are going to be handy to you for a long time in your design course. Our 3D GYM TEAM always recommends a FISKARS ( german ) for quality cutting . again two sizes always are a good idea. Some points to remember while this tool are :
We always tend to think that this is a very comfortable tool and do not need a lot of practice on it. THINK AGAIN ! Yes, you might have used this tool too after but not too long or too precisely so as to be able to cut neatly. Get enough practice on it.
Always cut from the point of cut while cutting any material with this tool. This gives a lot of control and quality in cutting.
Always cut very slowly in the beginning and aim for perfection. The examiners also note the small details like how much effort have you made to be neat and perfect. It is always better not to use scissors for straight line cutting as you will get better results with the metal scale and the cutter. Try intricate cutting with scissors and get better with each working model.
GET TO USE YOUR GEOMETRY BOX
This is a very essential tool but hugely ignored ! simply out of lethargy. It's always a CHALTA HAI attitude that we work with for this exam. Boss, we are going to give an exam for a design institute. And if we shy away from the basic design tools……..you can imagine the impression it will give ! so get into the habit of using this box very often.
It's like this. If I ask to draw a circle right now, what is the first thing you will do?
You will pick up a pen or a pencil and just draw it free hand. Just shows your attitude towards how perfectionist you are .
Always draw the circles with a pair of compasses.
Always use the set square to make right angles.
Always use a scale to draw straight lines.
Always use a sharpener to keep the pencil tips perfect.
Use an eraser to clean up the pencil marks later.
Little things but matter in the end. If you can pull even one mark extra from these efforts, it is really worthwhile !
SOME OTHER HANDY TIPS FOR YOUR TOOLS –
Keep safety pins /U clips / oil pins handy to hold your model at different places. Also carry a stapler as a tool. Keep some Band-Aids and cotton rolls for emergencies. You will not be given any extra time just because you cut your hand while working. It's a competitive exam.
THIRD MANTRA: CREATE YOU UCI ( UNIQUE CREATIVE IDENTITY )
Let's get to the thinking behind the test. The most logical aspect to be considered is " OUT OF 4000 ODD MODELS THAT WILL BE MADE ON THE DAY, WHAT SHOULD I DO TO ENSURE THAT MY MODEL GET SELECTED ?
Well, this question should start troubling you day in and out from the time you read it till the time.
A " JUST OUT OF NIFT " 20 YR OLD KIDS GARMENTS DESIGNER
A 30 YR OLD FEMALE DESIGNER WORKING FOR THE UPLIFTMENT OF TRADITIONAL DRESS FORMS.
A 35 YR OLD FEMALE DESIGNER WORKING FOR THE UPLIFTMENT FOR TRADITIONAL DRESS FORMS.
A 35 YR OLD MALE DESIGNER WORKING CREATING FOR ECO FRIENDLY DRESSES
A 55 YR OLD INTERNATIONAL DESIGNER MALE CREATING SIGNATURE SUITINGS FOR MEN
DO YOU GET THE POINTS WHICH WE ARE TRYING TO MAKE HERE? IF YES, CREATE 10 MORE THEMES ON THE SAME SITUATION. LETS SEE WHAT YOU CAN COME UP WITH.
DID YOU GET BETTER BY THE TIMES YOU REACHED THE 10TH ATTACHMENT?
Read on the following themes to understand the level that we are trying to make you reach. The following themes are wacky and crazy but bring out the height of imagination.
A FASHION DESIGNER FOR " HOLIDAY OR MOON" GARMENTS
A FASHION DESIGNER LAUNCHING A RANGE OF GARMENT WITH FRAGRANCE
A SWIMWEAR DESIGNER MAKING GARMENT OUT OF SEA PLANTS
DESIGNER FOR GARMENTS MADE OUT OF LIQUIDS
A DESIGNER WHO CREATES GARMENTS ONLY FOR TWINS
This is what attaching a theme really means. From here you pick you up the key words and start connecting them and playing with them as discussed in THE LINKING GAME.
FOURTH MANTRA: BE MATERIAL SAVVY
Remember your S.U.P.W classes? That's exactly what this mantra means. To be crafty. To use the material interestingly. This mantra only has practicality. It cannot be taught but has to be practiced and you will get better . some tips for using this mantra are :
LEARN SOME ORIGAMI SKILLS
LEARN TO LOOK AT THE MATERIAL DIFFERENTLY
Think what all you can do with a wire and a button, or an ice-cream stick, list is endless.
PLAY AROUND AND HAVE FUN WITH THE GIVEN MATERIAL.
Practice from these
How to make a 3D Cube , other 3D shapes, polygons etc.
Once you start doing the practice situations, we will be able to give you more examples and ideas on this mantra.
So enjoy working on the models and do send in the pictures of what you make to get our teams feedback.
FIFTH MANTRA: PRESENTATION SKILLS
It's the NIFT exam we are discussing here. And no discussion on a design institute can end without a proper emphasis on the presentation skill which has to be portrayed by you in order to prove to the panel that you have a way style of doing things. THE PACKAGING IS A VERY CRUCIAL FACTOR TO SELL WHAT YOU HAVE TO OFFER!
Here are a few skills that you can portray :
Do not think twice before removing all the torn off material / extra stationery / rubber and sharpener dust and any other irrelevant material. When you leave your model, it should be the only thing on the table along with your write up.
Be neat from the start. If you have planned your time well you will automatically tend to be neat. So do not leave your work for the last moment. You should be over with your model well in time to clear up the excess material from the table.
Make sure that model is facing the side from which the panel is going to view it. The work should not be falling off and should be self standing.
Sometimes before throwing away the excess material on the table, see if you want to use any of the cut papers, cardboards, buttons, rubber bands in a way that they might hide something or use them interestingly on the write up sheet in a skillful way around the write-up.
The idea is that your mind should be constantly working on what else you can to make your model more appealing and aesthetic. BUT , IN THE PROCESS BE CAREFUL NOT TO OVERDO THINGS.
SIXTH MANTRA: TIME MANAGEMENT TIPS
Remember that you have 2 hours to complete the test. given below is an ideal plan to follow for managing your time well. Follow the pattern also during the practice sessions.
As You Enter The Hall To Give The Exam, Settle Down Fast At The Allotted Desk And Organize All The Material On The Table.
Do Not Talk To Anyone Now And All You Should Be Trying To Do Is To Calm Down And Control Your Nerves. Do Some Deep Breathing To Help You Ease Down. Tell Yourself That You Are Here To Enjoy The Test And Not Worry About The End Result.
As You Get The Situation On Hand Which Is Also The Start Of The Allotted
TWO HOURS TIME OR 120 MTS, DIVIDE THE LIKE THIS:
FIRST 5 MTS: Study The Situation Very Carefully At least Thrice And Extract The Keywords. Concentrate Now. Don't Panic!
5- 25 MTS: Follow The Third Mantra And Go Step By Step To Reach The Idea That You Feel Is Interesting And Unique.
25-100 MTS: Work On The Execution Of Your Model Not Deviating Much From The Main Idea. Do Not See Others Work And Get Nervous.
100-115 MTS: Write Up About The Design Process That You Followed And Why Did You Make The Model In This Particular Way. This Is Very Important As This Is The Only Way To Get Your Idea Across To The Panel. You Can Use Some Poetic Language / Jingle Or A Smart Liner To Make Your Write Up Appealing. Keep It Precise And Crisp. When You Are Going Your Practice Situation Models Always Do The Write Up Along.
115- 120 MTS: Clean Up Your Table And Step Back From Your Model. Look At It Very Critically And See If You Genuinely Like What You Have Done. See If There Are Any Minor Additions Or Subtractions Which Would Help Your In Any Way. Most Important Is To Analyze If The Model Is Justifying The Theme And Does It Evoke A Response Like" Ah ……….That's Interesting !!
TAKE A PRINT OUT ALL THESE SIX MANTRAS AND PASTE THESE OVER THE AREA WHERE YOU ARE GOING TO WORK EVERY DAY ON THE MODELS. KEEP GOING THROUGH THE MANTRAS TIME AND NOW AND FOLLOW THEM TO THE CORE. YOU WILL NOT BE DISAPPOINTED !
Enough theory! Let's get down to some rough work.
Remember, it's a war from here guys! you have to snatch a seat for yourself to which you are so close and yet so far! so don't let the other take advantage of the situation. Give it all you have and you will find yourself budding in a magical world of DESIGNERS. Live the dream today to make it happen tomorrow.
MAKE THE BEST OF THE SITUATIONS !
SITUATION TEST MODELS GALLERY
WORK OF TRENDZ STUDENT, NILANJANA GIRI, who scored 19.6 out of 20 in her Situation test model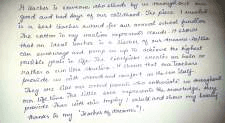 THEME : MOMENTO FOR TEACHER'S DAY WITH WRITE UP